This September & October we are hosting a 2 day, 16hr Restorative Yoga Teacher Training to help equip you with the tools needed to teach Restorative Yoga. 
But, what is Restorative Yoga and why teach it? 
What is Restorative Yoga?
Restorative Yoga is a practice of yoga that aims to restore the body and the mind through long, slow, mindful stretching. 
In a Restorative Yoga class, you hold a few select postures for extended periods of time rather than flow through a sequence of many asanas. Most, but not all, of the preferred Restorative Yoga asanas are seated and lying down, with the use of multiple props. 
The use of props in Restorative Yoga ensures that very little strain is put on the body itself. Stretching in Restorative Yoga is gentle and meant to relax both the body and mind. Breathwork, crucial to all yoga practice, is at the core of Restorative Yoga.
As an example of the pace of a Restorative Yoga class, they often use Savasana as a starting posture as well as at the end of a session.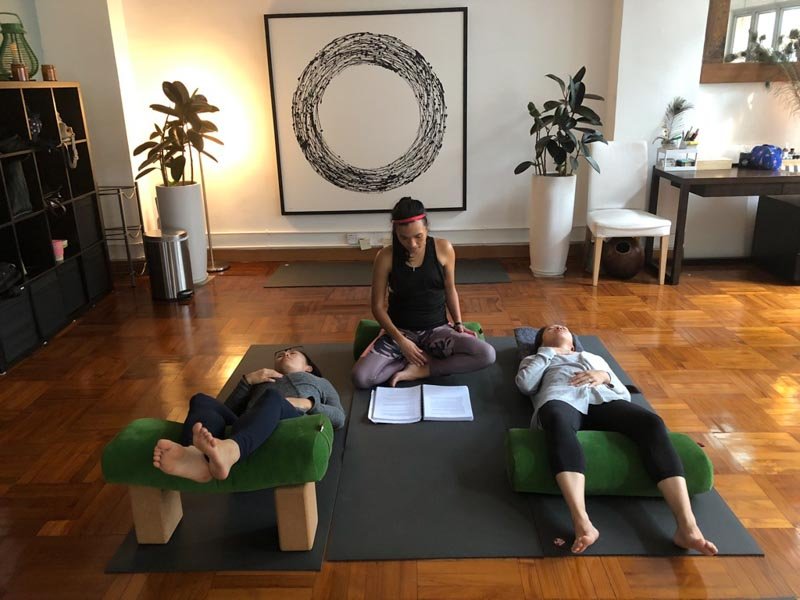 Why Teach Restorative Yoga?
Offering Restorative Yoga as part of your yoga teaching gives your students the full range of benefits that yoga provides. 
Restorative Yoga is perfect for those who struggle with the pace of faster flow classes. 
It is an ideal solution for people who live busy, high-stress lives and those who practice high-intensity exercise on a regular basis. 
Restorative Yoga's soft and slow pace is also fantastic for older people or those suffering injuries.
If you know that your community could benefit from Restorative Yoga, then let us help you gain the skills needed to teach it effectively.
The Gecko Restorative Yoga Teacher Training will familiarise you with the use of yoga props, introduce you to new yoga sequences and remind you of the importance of breathwork, mindfulness and setting in yoga. Investing in these skills will be beneficial to your own yoga practice and all other kinds of yoga teaching.
What's included in the Gecko Restorative Yoga Teacher Training?
16 hours of theory and practical training, taught over 2 days by Gecko Yoga founder Jenny Smith.
Theory on the background and benefits of restorative yoga, as well as the importance of environment, intention, breath, sequencing, and assistance in restorative yoga teaching.
The training is taught from an experiential platform, so you will enjoy sessions in Restorative Yoga to introduce the practice.
Your practical training will teach the skills needed to guide students into poses using demonstrations and verbal instructions.
You'll understand the benefits of key poses and how to help adjust postures to suit the needs of each student.
And you'll learn to use bolsters, pillows, straps and other props to assist in the gentle stretching of restorative yoga postures.
Practical experience teaching to your fellow classmates.
All props and yoga equipment.
Join us on September 19th and October 24th and continue your yoga education!